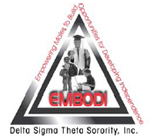 EMBODI
EMBODI is a new national initiative designed  by Delta Sigma Theta, Inc, for young males that provide interactive programs and contact with male role models.  PVAC's EMBODI Committee partnered with the Montgomery County Housing Opportunities Commission to provide these experiences to 4th – 8thgrade boys.  The year of activities included:
A "Healthy Conflict Resolution Techniques" Workshop
Literacy Education
A Career Exploration Workshop:  "What Can I Be and How Do I Get There?"
A Day of Empowerment and Service
"The Millionaire's Club":  A Workshop on Financial Literacy and Entrepreneurship for Young Minority Males
An End of the Year Field Day
The Dr. Betty Shabazz Delta Academy and The Dr. Jeanne L. Noble GEMS Institute
During the year, the PVAC Delta Academy/GEMS partnered with the Montgomery County Housing Opportunities commission (HOC) and held all activity sessions at the Tony Davis Family Resource center in Germantown, Maryland.  The 36 girls who participated in the Academy enjoyed a wide variety of experiences that included:
A mock voting activity designed to provide an understanding of mid-term elections
A formal dinner experience designed to encourage appropriate meal etiquette
"The Art of Giving Back":  designing unique arts and crafts for others
A round table book discussion with Leslie A. Morris, author of HowYa Like Me Now?  Sponsored bythe PVAC Arts and Letters Committee
"The True YOU:  A Self-Esteem and Leadership Workshop for Girls sponsored by the Montgomery County Collaboration Council
A Howard University tour, step show and dinner
A Financial Literacy Workshop for Girls sponsored by the PVAC Economic Development Committee
A "Healthy Lifestyles for Teens" Workshop sponsored by the PVAC Physical and Mental Health Committee
The young ladies of the Academy/GEMS experienced a wonderful end of the year overnight activity at the Black owned Madly Living Bed & Breakfast in Ft. Washington, MD. Sponsored by the Atikal Foundation, Inc. the experience culminated with self-esteem and healthy living workshops.
Arts & Letters Committee
The Arts and Letters Committee provides chapter members, children, and members of the community a wide selection of opportunities to experience the Arts.  This year Arts and Letters focused on authors and books, local performing arts, and cultural expressions of history through the following activities:
The Arts and Letters Committee's Book Club read and participated in discussions of two books – Living with a Purpose:  An Activist Guide to Listening,Learning, and Leading by Past National President Dorothy I. Height and Wench by Dolen Perkins Valdez
Spearheaded the Chapter's participation in the Help African Libraries (HALIBS) Project in the collection of over 1000 books for libraries in Gambia and Sierra Leone
Partnered with the Delta Academy/GEMS to continue the Christmas Book Tree by providing books of their choice to 30 girls
Presented an "Evening with as Author" program where the Delta Academy/GEMS were able to listen to and discuss life experiences and choices with Leslie A. Morris author of How Ya Like Me Now?
Organized an evening for chapter members  and their families to attend a performance of "The Christmas Pageant" at a local Cathedral
Partnered with the Educational Development committee to provide 10 students a "living history" experience at Button Farm where aspects of slave life were recreated and students were able to complete a service project during the visit